Guy, Allan Ray (1926-)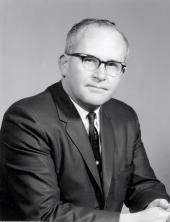 Allan Guy was born in the Farming community of Senlac on May 18, 1926. Guy worked on the family farm before attending Saskatoon Teacher's College and the University of Saskatchewan. After teaching for a number of years, he became a school principal in La Ronge. Guy was active in the Saskatchewan Teachers' Federation and the La Ronge Chamber of Commerce. He married Sylvia Evangeline Harach of Radisson in 1951, with a second marriage to Marjorie Hastings in 1967. Guy has three children.
First elected as the Liberal candidate from Athabasca to the Saskatchewan Legislature in 1960, Guy acted as the Opposition critic for Northern Affairs and Indian issues. He was re-elected in 1964, 1967, 1971, and in a by-election in 1972. He also ran as a candidate for the Rosthern constituency in 1975 but was defeated. Guy served in the Cabinet of Ross Thatcher as Minister of Public Works from 1967 to 1970. He was then appointed Minister of Municipal Affairs and Minister of the Department of Indian and Métis Affairs, a new department established to address issues of poverty facing First Nations reserves throughout Saskatchewan with particular focus on the north. He held these positions until 1971, when the Liberal government was defeated.
Roberta Lexier
Print Entry