Goodale, Ralph Edward (1949-)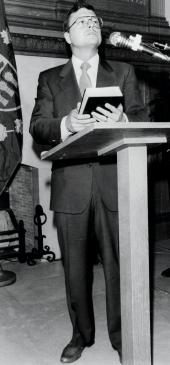 Ralph Goodale was born on October 5, 1949, and was raised on a farm near Wilcox. In 1972 he received a law degree from the University of Saskatchewan. After working as a special assistant to federal Justice Minister Otto Lang, Goodale was elected as a Liberal in Assiniboia in the 1974 federal election. He was defeated in the 1979 and 1980 federal elections, switched to provincial politics, and was elected leader of the provincial Liberal Party in 1981.
With no seats in the provincial Legislature, the Liberal vote plummeted in the 1982 provincial election and again they were shut out. Goodale campaigned on fiscal responsibility in the 1986 election. Although the Liberals remained in third place, their popular vote improved and Goodale was elected MLA for Assiniboia–Gravelbourg.
Goodale resigned in 1988 to contest the constituency of Regina-Wascana in the federal election. He lost and temporarily left politics to work in the private sector. He was elected in the 1993 federal election and was appointed Minister of Agriculture and Minister responsible for the Canadian Wheat Board by Prime Minister Jean Chrétien. Under Goodale's guidance the Crow Rate was eliminated. In spite of an upswing in support in Saskatchewan for the Reform (Canadian Alliance) (Conservative) Party, Goodale was re-elected with comfortable margins in the 1997, 2000, and 2003 elections.
Goodale was shifted from Agriculture to Natural Resources in 1997 while retaining responsibility for the Wheat Board. Goodale continued as Natural Resources Minister until 2002, when he briefly became Government House Leader. Later in 2002, however, Chrétien moved Goodale into the Department of Public Works and Government Services to deal with a scandal that involved inappropriate rewarding of government tendering and advertising contracts. Goodale's fortunes continued to rise in 2003 when Paul Martin succeeded Chrétien as leader of the federal Liberals and Prime Minister. Goodale, a long-time ally of Martin, was appointed Minister of Finance, a position that made him the most powerful Saskatchewan politician in the federal government since John Diefenbaker.
Mike Fedyk
Print Entry