Golf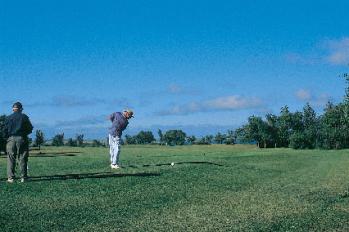 Golf began in Saskatchewan at the Regina Golf Club, founded in 1899. In 1913, male golfers organized the Saskatchewan Golf Association (SGA) to run competitions and enforce the rules of the game; in 1926, female players formed their own association, the Saskatchewan branch of the Canadian Ladies Golf Union. Provincial championships began in 1908 for men and in 1914 for women. By 1926, there were 100 golf courses, most with nine holes and sand greens, and the SGA estimated that there were over 8,000 golfers in the province.
The Depression and World War II caused a shortage of equipment and a severe drop in the number of players, but the game rebounded after 1945. The largest clubs, those in cities, installed watering systems for fairways as well as greens. Caddies almost disappeared, as many players pulled their clubs around the courses on carts. More competitions were held, including those restricted to younger golfers. In the 1950s, Saskatoon hosted both the men's and the women's Canadian championships. Also, Saskatoon golf professional Pat Fletcher won the Canadian Professional Golfers Association title in 1952, and the Canadian Open in 1954.
In the 1960s, new golf courses were opened, such as the municipal courses in Regina and Saskatoon, and more existing courses added watering systems. Partly because of these better facilities, more Saskatchewan golfers began to have success outside the province. Joanne Goulet of Regina was a semifinalist in the British Open Championships in 1964, and Barbara Turnbull of Saskatoon reached the Canadian women's final in 1969. These two women dominated the provincial championships for more than twenty years. Also, a four-man provincial team won the men's national championship, the Willingdon Cup, in 1964.
Golf continued to expand, with 203 courses in the province by 1987. In 2003, the SGA had a membership of approximately 16,000 men and women of all ages. Equipment became much more sophisticated and expensive, with clubs made of steel or titanium instead of the traditional wood. Also, many players rode in carts instead of walking. Saskatchewan golfers continued to win national events: in both 1985 and 1990, a team of four women won the Canadian Seniors Championship (for players over age 50). Saskatoon's Dana Kidd was the best junior golfer (under age 19) in Canada in 1992.
Sandra Bingaman
Print Entry