<%@include file="menu.html" %>

Welcome to the Encyclopedia of Saskatchewan. For assistance in exploring this site, please
click here
.
Forget, Amédée Emmanuel (1847- 1923)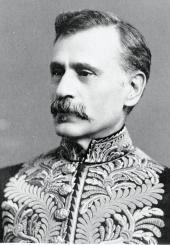 Born November 12, 1847, at Marieville, Canada East, where he was educated, Amédée Forget made his career in the North-West Territories. For more than forty years he sat close to the centres of non-elected power. Secretary to the Territories' governor, clerk of its Council, a commissioner of Métis land claims (1885) and, later, assistant and then commissioner of Indian Affairs for Manitoba and the NWT, he was named Lieutenant-Governor of the Territories in 1898. His appointment as Lieutenant-Governor of Saskatchewan was controversial as he was in a privileged position to influence the composition of the province's first government. The Mail and Empire termed Forget's appointment "A Crime Against the West," because he was "an instrument in the hands of Sir Wilfrid Laurier," an assertion the appointment of Walter Scott as Premier did nothing to counter. Forget and his wife, Henriette (née Drolet), established the routine of vice-regal events and ceremonies that their counterparts a century later still follow: hosting, welcoming, presenting, swearing-in and laying cornerstones. Forget was Lieutenant-Governor between September 1, 1905, and October 13, 1910. He was called to the Senate in May 1911, a position he held at the time of his death on June 8, 1923.
David E. Smith
Print Entry
Further Reading
Hryniuk, Margaret and Garth Pugh. 1991. A Tower of Attraction: An Illustrated History of Government House, Regina, Saskatchewan. Regina: Government House Historical Society/Canadian Plains Research Center.
This web site was produced with financial assistance
provided by Western Economic Diversification Canada and the Government of Saskatchewan.
Ce site Web a été conçu grâce à l'aide financière de
Diversification de l'économie de l'Ouest Canada et le gouvernement de la Saskatchewan.