Figure Skating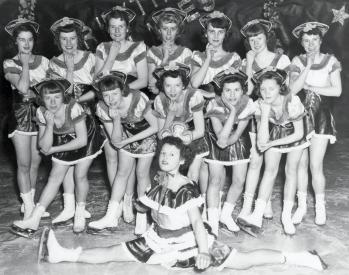 Fancy skating, as it was then called, began in the 1880s on both outdoor and indoor rinks, with competitions held at winter carnivals. The first figure skating club began in Saskatoon in 1929, attracting both adults and children. In 1934, the Wascana Winter Club in Regina opened a rink dedicated exclusively to this sport; skaters took lessons and competed in singles, pairs, and dance events. Competitions consisted of both figures, which were patterns traced on the ice, and free skating events, which featured spins and jumps. Regina skater William Thomas won the national junior men's title in 1942. Skating became extremely popular among young girls in the 1950s. The two large city clubs served as centres of activities, with their better skaters traveling to smaller communities to give lessons and organize carnivals. Local people became qualified figure skating judges who officiated at competitions - among them Margaret Sandison, who judged for over fifty years. The province hosted interprovincial competitions, and in 1955 staged the North American Championships in Regina.
Figure skating continued to grow during the 1960s and 1970s, with local organizers affecting the sport at the national as well as the provincial level. From 1965 to 1967, Bert Penfold of Regina was president of the Canadian Figure Skating Association (CFSA), in which capacity he worked to increase television coverage of national events. On the ice, the province's skaters competed at national championships and in the Canada Winter Games, winning three bronze and three gold medals during this period. In the 1980s, organizers both nationally and provincially started two new programs to increase participation in the sport. One of these was CANSKATE, a program designed to teach preschoolers the basics of the sport. The second was precision skating, in which teams of from twelve to twenty skaters, usually women, execute well-synchronized routines to music. Doug Steele of North Battleford, who served as CFSA vice-president from 1986 to 1992 and president from 1992 to 1994, helped initiate precision skating competitions.
Saskatchewan figure skaters continued to do well at national competitions. In precision skating, a team from Wynyard won the national championship in 1988. In novice and junior events, several skaters took silver and bronze medals; and two, Trudy Treslan and Herb Cherwoniak, both of Saskatoon, won gold medals in 1984 and 1991 respectively. In 1996, the nature of competition changed because the CFSA did away with the figures that had given this sport its name.
Sandra Bingaman
Print Entry