Farrell Racette, Sherry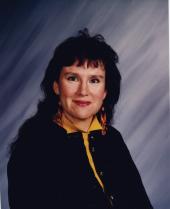 Sherry Farrell Racette lives in Regina where she is Associate Professor at the First Nations University of Canada. She is of First Nations and Irish descent and a member of Timiskaming First Nation in Quebec. She received a BFA (1974) and a Secondary Certificate in Education (1975), both from the University of Manitoba. She earned an MEd from the University of Regina (1988) and received a doctorate degree in the Interdisciplinary Program in Anthropology, History and Native Studies at the University of Manitoba (2004).
Using both visual and literary art forms, Farrell Racette contributes to a better understanding of Métis and First Nations history. In 1985, she wrote and illustrated the book, The Flower Beadwork People, in commemoration of the 100th anniversary of the Métis (or Riel) Resistance of 1885 and published subsequently by the Gabriel Dumont Institute in 1991. In her role as book illustrator, her visual vocabulary captures the intrinsic essence of the author's texts and brings the words to life. She has worked closely with numerous writers, such as Maria Campbell on Stories of the Road Allowance People (1995), Freda Ahenakew on Wisahkechak Flies to the Moon (1999), and Ruby Slipperjack on Little Voice (2001). She also contributes to scholarly publications as one of the growing number of First Nations intellectuals. Her essays on the history of Métis women's art and on Louis Riel are included in numerous anthologies published in 2001.
Farrell Racette maintains an active artistic practice in addition to her role as writer and educator, exhibiting frequently in venues throughout Saskatchewan. Solo exhibitions include Illustrative Images, MacKenzie Art Gallery (travelling 2002-04); Building Community, a mural installation, the Plains Museum, Regina (2001); Dolls for Big Girls, Rosemont Art Gallery, Regina (2000); Stories of the Road Allowance People, Harbour Centre Gallery, Vancouver and Wanuskewin Heritage Park Gallery, Saskatoon (1995); and The Flower Beadwork People, Dunlop Art Gallery, Regina (travelling 1992–94). Recent group exhibitions include Animate Objects: The Grammar of Craft in First Nations Contemporary Art, Sakewewak Artists Collective, Regina (2002); Rielisms, Winnipeg Art Gallery, Winnipeg (travelling 2001); Mark Makers: First Nations Graphics+, MacKenzie Art Gallery, Regina (travelling 1997–99); Here and Now, Dunlop Art Gallery, Regina (1997); Returned Gifts: Saskatchewan Based First Nations Artists, Neutral Ground, Regina (1997); and Separate Identities: Six Artists of Aboriginal Ancestry, The Little Gallery, Prince Albert (travelling 1993–94).
Her artwork is included in the collections of the Regina Plains Museum, the MacKenzie Art Gallery, the Dunlop Art Gallery and the Saskatchewan Arts Board. Farrell Racette is a board member of the Saskatchewan Arts Board, the Saskatchewan Heritage Foundation and Sakewewak First Nations Artists' Collective, Regina. She was a member of the Visual Arts Advisory Committee of the Canada Council for the Arts (1998) and of the Indian and Métis Education Advisory Committee, Saskatchewan Education (1994–97).
Lee-Ann Martin
Print Entry