<%@include file="menu.html" %>

Welcome to the Encyclopedia of Saskatchewan. For assistance in exploring this site, please
click here
.
Drought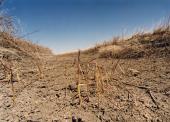 Lying in the rain shadow of the great Rocky Mountains, the province of Saskatchewan is susceptible to frequent and often severe droughts. Especially vulnerable to drought is the semi-arid Palliser Triangle region in the south of the province. In meteorological terms, a drought is an extended period of below-normal precipitation (rain or snow). A drought may last for several months or for many years; it may affect a single municipality or the entire province; and it may occur in any season. Saskatchewan has had many droughts since instrumental Climate records began in the 1880s. Southwestern Saskatchewan experienced severe drought for six years between 1917 and 1926. This was soon followed by the "Dust Bowl" conditions of 1929 to 1937, which gave rise to one of the most destructive prairie drought periods of the 20th century. However, the size and intensity of the 1961 drought exceeded even that of the Dirty Thirties. In 1961 the driest parts of the province received only 45% of normal precipitation. Rivaling the desert-like conditions of the 1930s, the late 1980s were also extremely dry and warm: in 1988 southern Saskatchewan received only 50% of normal precipitation and recorded one of its hottest summers ever. The most recent drought period was 2000-03; Saskatchewan recorded its driest year in more than a century in 2001. Scientists claim that 20th century droughts were relatively moderate and short-lived compared to those of previous centuries. Analyses of historical proxy data from tree-rings and lake sediment cores indicate that severe and prolonged drought periods (i.e., up to several decades) occurred on the southern Prairies in the early 1600s, late 1700s, and mid-1800s. These so-called super-droughts are characteristic of a dry, continental-type climate, and thus future drought events of similar magnitude are likely to occur in Saskatchewan. The social and economic implications of drought in the province are wide-ranging. Droughts threaten wetlands and waterfowl, diminish municipal water supplies, heighten the risk of forest fires, reduce crop yields, and disrupt livestock production. Due to the importance of agriculture in Saskatchewan, economic losses from drought can be crippling. In 1961 - generally considered Saskatchewan's worst drought year - losses to prairie Wheat production alone totaled $668 million. The 1986-88 drought also triggered staggering losses (e.g., a $4 billion drop in grain exports) to Canadian agriculture. Saskatchewan farmers have adopted a range of water and soil moisture conservation strategies to combat the effects of drought. During periods of below-normal precipitation, Irrigation systems, wells, dugouts, and reservoirs provide farmers with a stable water supply; and shelterbelts, grass barriers, stubble mulching, minimum tillage, and reduced summer fallow help farmers retain valuable soil moisture.
Iain Stewart
Print Entry
Further Reading
Environment Canada. 1992. Drought: Fact Sheet. Downsview: Atmospheric Environment Service; Fung, K.I (ed.). 1999. Atlas of Saskatchewan. Saskatoon: University of Saskatchewan; Nemanishen, W. 1998. Drought in the Palliser Triangle. Regina: Prairie Farm Rehabilitation Administration; Sauchyn, D.J. and A.B. Beaudoin. 1998. "Recent Environmental Change in the Southwestern Canadian Plains," Canadian Geographer 42 (4): 337-53.
This web site was produced with financial assistance
provided by Western Economic Diversification Canada and the Government of Saskatchewan.
Ce site Web a été conçu grâce à l'aide financière de
Diversification de l'économie de l'Ouest Canada et le gouvernement de la Saskatchewan.