<%@include file="menu.html" %>

Welcome to the Encyclopedia of Saskatchewan. For assistance in exploring this site, please
click here
.
Douglas, John Taylor (1892-1976)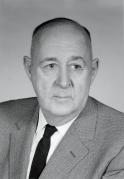 John Taylor Douglas was born at Cumberland, Ontario, on October 28, 1892. In 1906, John traveled west with his parents to the Laura district in Saskatchewan. He received an agriculture degree from the University of Saskatchewan and began farming near Laura. Douglas became secretary of the Rosetown constituency Progressive Association. As the movement evolved into the CCF, Douglas supported the policies of the new party. In 1935 he managed the campaign that elected M.J. Coldwell to the House of Commons. From 1936 to 1941 Douglas served on the CCF Saskatchewan council and became the party's provincial organizer in 1941. When the CCF swept to power in 1944, he was elected to the Legislative Assembly. Douglas would win three more elections and serve a total of sixteen years in the T.C. Douglas administration. In 1944 John Douglas was named Minister of Highways and Transportation and Minister of Public Works. In 1946 he set up a Royal Commission on Penal Reform and organized the Saskatchewan Transportation Company into a Crown corporation. When he took on the job of Highways Minister Douglas made it a priority to upgrade the highway system. He retired in 1960. Douglas died on February 19, 1976.
Dwayne Yasinowski
Print Entry
Further Reading
McLeod, Thomas H. and Ian McLeod. 1987. Tommy Douglas: The Road to Jerusalem. Edmonton: Hurtig Publishers; Saskatchewan Archives Board. Interview with J.T. Douglas, tapes R-6086, R-6087.
This web site was produced with financial assistance
provided by Western Economic Diversification Canada and the Government of Saskatchewan.
Ce site Web a été conçu grâce à l'aide financière de
Diversification de l'économie de l'Ouest Canada et le gouvernement de la Saskatchewan.