Dewar, Phyllis (1916-61)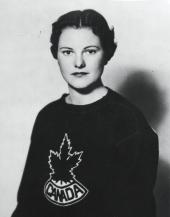 An outstanding freestyle swimmer during the 1930s, Phyllis Dewar was born in Moose Jaw on March 5, 1916. Dubbed the "Moose Jaw Mermaid" by the press, Dewar recorded the best performance of any Canadian at the 1934 British Empire Games in London, England. She won gold medals in the 110- and 440-yard freestyle, the 330-yard medley, and the 4 x 110-yard relay. Chosen as Canada's female athlete of the year in 1934, Dewar set new national records in the 100-, 400-, 1,000-, and 1,500-yard freestyle and one-mile event in 1935.
Although the flu hampered Dewar's performance at the 1936 Berlin Olympics, she returned to the medal podium at the 1938 British Empire Games in Sydney, Australia. She won her fifth gold medal as a member of the Canadian 4 x 110-yard relay team and later retired from competitive Swimming. After the death of her husband in 1954, Dewar's health deteriorated and she died in Toronto on April 8, 1961. She was posthumously inducted into the Saskatchewan Sports Hall of Fame (1967), the Canadian Sports Hall of Fame (1971), and the Canadian Olympic Hall of Fame (1972).
Holden Stoffel, Karen Zemlak
Print Entry