<%@include file="menu.html" %>

Welcome to the Encyclopedia of Saskatchewan. For assistance in exploring this site, please
click here
.
Davin, Nicholas Flood (1840-1901)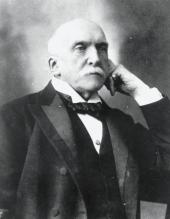 Baptized Nicholas Francis, Davin was born in Kilfinane, Ireland in 1840. After law studies and journalistic experience in Ireland and London, he came to Toronto to work for the Globe in 1872, having already acquired an impressive knowledge of classical and modern languages and literature. In Toronto Davin was noticed as an orator and a writer. In his lengthy The Irishman in Canada (1877), he praised the role played by his countrymen in establishing the new nation. As a Conservative he was narrowly defeated in the 1878 election. Two years later, his brilliant, though losing, defence of the assassin of George Brown led to a patronage post. Davin came to Regina as secretary to the Royal Commission on the Pacific Railway in October 1882. Davin established a Conservative newspaper, the Regina Leader, which began publication on March 1, 1883. In financial difficulty, he appealed to John A. Macdonald to obtain the post of secretary to the Royal Commission on Chinese Immigration. The 1885 North-West Resistance and the subsequent trial of Louis Riel brought national attention to him and the Leader when he disguised himself as a priest and interviewed Riel in his cell. In Regina, Davin was involved in all aspects of civic, political, legal, and cultural life. In 1887 he won the new constituency of Assiniboia West as a Conservative. He was re-elected in 1891 and 1896. Walter Scott, to whom he had sold the Leader in 1895, defeated him in 1900. His Eos: An Epic of the Dawn and other Poems (1889) was the first volume of poetry published in the North-West Territories. The rest of his published work consists mainly of his own speeches. His legal career did not progress and other problems compounded his difficulties. Davin had a relationship with Kate Simpson Hayes but married Eliza Reid in 1895. He died by his own hand in Winnipeg in 1901. However, Davin left his mark on the province and remains the only politician after whom a locality, a school, and a street have been named, and who, fittingly, is the subject of a biography, a play, and an opera.
Brian Rainey
Print Entry
Further Reading
Koester, C.B. 1980. Mr. Davin, M.P. Saskatoon: Western Producer Prairie Books; Thompson, John Herd. 1994. "Davin, Nicholas Flood." Pp. 249–53 in Dictionary of Canadian Biography vol. 13. Toronto: University of Toronto Press.
This web site was produced with financial assistance
provided by Western Economic Diversification Canada and the Government of Saskatchewan.
Ce site Web a été conçu grâce à l'aide financière de
Diversification de l'économie de l'Ouest Canada et le gouvernement de la Saskatchewan.