Curling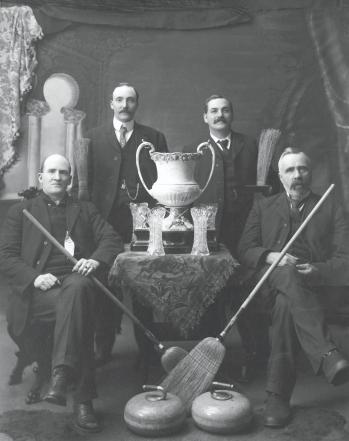 Curling provides a distinctive piece in the social History of Saskatchewan: from modest beginnings to its present complex levels, it has been associated with almost every aspect of prairie life. Curling was seen in Saskatchewan as early as 1879, with the first reported match played on January 17, 1882, in Prince Albert. In 1892, the Regina Curling Club held the first bonspiel in the North-West Territories, with rinks participating from Qu'Appelle, Indian Head, Calgary and Regina. In 1904 the Assiniboia Branch of the Royal Caledonian Curling Association was formed in Regina, changing its name to the Saskatchewan Branch in 1905, when it held its first bonspiel in Regina. In 1910 the Saskatchewan Branch of the Royal Caledonian Curling Association officially became the Saskatchewan Curling Association. The first quarter of the 20th century marked a time of significant growth in the number and popularity of bonspiels in Saskatchewan. As communities competed to demonstrate who could host the largest and greatest bonspiel, one of the most important aspects of the game —its intrinsic sociability—was reinforced. "Smokers," featuring variety shows and imported cigars, were often the most popular event. It was in Saskatchewan in 1947 that the era of carspiels began: Nipawin put up four Hudson automobiles as prizes; the carspiel attracted over 500 curlers, as well as international attention for being the first bonspiel to offer such prizes. The carspiel lasted eight years and was widely copied throughout western Canada; it eventually gave way by the 1970s to the cashspiel as the dominant spectator attraction next to the Canadian men's championship, popularly known as the Brier.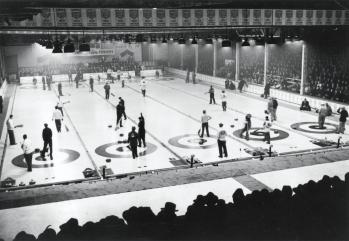 By 1952–53, Saskatchewan had 511 affiliated clubs with 18,973 curlers, making it the province with the most curlers per capita. From the 1950s to the end of the 1970s was a time of unmatched growth for curling in Saskatchewan, which claimed the finest curlers and most victorious bonspiels and championships. The province boasts many curling legends. Its first Brier win was in 1955 at Regina by brothers Garnet, Don, Glen and Lloyd Campbell of Avonlea. Garnet Campbell became the first man to compete in ten Briers, and was renowned for his bonspiel successes and sportsmanship. Inspired by Campbell's triumph, the Richardsons of Regina took up the sport in earnest to capture four Brier titles and four of the first five world championships in 1959, 1960, 1962 and 1963; Ernie Richardson was the first skip to win four Canadian men's championships. Saskatchewan has won the Brier only twice since then. Harvey Mazinke of Regina led Billy Martin, George Achtymichuk and Dan Klippenstein to the 1973 title, only to lose the subsequent world championship final before a home-town crowd when conditions produced sloppy ice and an extra-end victory for Kjell Oscarius of Sweden. Rick Folk of Saskatoon, with Ron Mills, Tom Wilson, and Jim Wilson won the Brier and world championships in 1980. Folk and Wilson also teamed up with different female team mates to win 1974 and 1983 Canadian mixed championships.
Curling for women began later in the province than it did for men; while women always played a vital role in organizing for curling bonspiels, ladies' events were not instituted until 1923. By 1947 the Saskatchewan Ladies' Curling Association was founded, which amalgamated with the men's organization fifty years later in 1997. In 1952 the Western Canadian Ladies' Curling Association was established in Winnipeg. The first provincial championship for women was held in 1948. The first Western Canadian Women's Championship was held in Regina in 1953, won by Janet Perkin of Regina. Women began national competition in 1960 and world championships in 1979. Joyce McKee of Saskatoon, with Sylvia Fedoruk, Donna Belding, and Muriel Coben won the first Canadian women's title, a showdown between eastern and western champions in 1960. A year later the team—with Fedoruk, Barbara McNiven and Rosa McFee—went undefeated to earn the first Canadian championship. McKee would win four more national titles: as a skip in 1969 and as second on Vera Pezer's three-time champions from 1971–73. With Dorenda Schoenhals (1970) and Emily Farnham (1974) also leading their teams to ultimate victory, Saskatoon claimed six consecutive Canadian women's championships from four different skips from 1969-74. Regina picked up the women's winning habit in 1980 when Marj Mitchell's rink swept the Canadian and world crowns. Later, Sandra Schmirler, Jan Betker, Joan McCusker and Marcia Gudereit became the most accomplished women's team in history, earning national and world titles in 1993, 1994 and 1997, as well as a gold medal at the 1998 Winter Olympics in Nagano, Japan. SCHMIRLER's death from cancer at the age of 36 in 2000 was mourned across Canada.
Saskatchewan has also produced a number of successful junior men and women curlers. Thirteen Saskatchewan rinks have won the Canadian Junior Men's Championship since 1950. The Saskatoon foursome of Steve Laycock, Christopher Haichert, Michael Jantzen, and Kyler Broad won both the Canadian Junior Mens and World Junior Men's titles in 2003. Repeating this feat in 2005 was the Regina rink of Kyle George, Justin Mihalicz, D.J. Kidby, and Chris Hebert. On the women's side, nine Saskatchewan rinks have claimed the Canadian Junior Women's Championship since 1971. Most recently, Saskatoon's Marliese Miller, Teejay Surik, Janelle Lemon and Chelsey Bell won the 2003 Junior national and world titles.
Today, the Saskatchewan Curling Association (SCA) is the provincial governing body. Clubs in the province who wish to participate pay an affiliation fee by facility. While there are clubs that are not affiliated, in 2003-04 there were 207 clubs that were. In 2003-04 the complete membership was 35,724 people; there were 669 sheets of artificial ice, and thirty-two of natural ice. The SCA receives the majority of its funding from SaskSport, but has many corporate sponsors as well. Curling's popularity in Saskatchewan may reflect the need to find competitive and enjoyable entertainment to endure harsh winters. It enjoys the advantage of being accessible to people of both genders, almost any body type, the competitive sportsperson as well as the recreational player, and virtually all ages. Men's, women's and some mixed provincial championships are contested from Juvenile (under-18) through Masters (over-60) levels. Curling has gained considerable attention for Saskatchewan as both a host for major championships and for the province's competitive success. As curling has become an important part of the social, political, and economic make-up of Saskatchewan, the provincial Legislature recognized curling as the official sport of the province on April 24, 2001.
Karen Zemlak
Print Entry
Further Reading
Lefko, P. 2000. Sandra Schmirler: The Queen of Curling. Toronto: Stoddart Publishing; Pezer, V. 2003. The Stone Age: A Social History of Curling on the Prairies. Calgary: Fifth House; Scholz, Guy. 1999. Gold on Ice: The Story of the Sandra Schmirler Curling Team. Regina: Coteau Books.