Crop Development Centre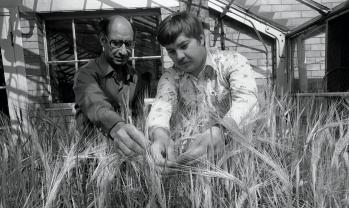 The Crop Development Centre (CDC) was established at the University of Saskatchewan in 1971 through collaboration between the University, the National Research Council (NRC) and the Saskatchewan Department of Agriculture. The NRC funded the scientists and support staff for the first three years. The government of Saskatchewan has provided the Centre's core staff and operational funding through its Department of Agriculture since that time. The original mandate of the CDC was to expand research and breeding in winter and spring Wheat, feed grains, and new crops. Later expansion of the program provided capacity for research on weed control, Conservation tillage, and biotechnology. The current research focus is on plant breeding in wheat (winter, spring and durum), Barley (malting, feed and food), oat (feed and food), Flax (linseed and solin) and pulse crops (peas, lentils, chickpeas and dry beans), as well as pulse crop pathology.
The Centre has access to extensive research facilities that include a very large land base, controlled environment growth facilities, and laboratories and equipment that are unmatched in Canada. Besides the core and project funding provided by the provincial government, the CDC receives significant financial support from several producer groups and private industry. Royalties on the sale of pedigreed seed of CDC crop varieties as well as the sale of breeder seed and commercial grain are also important revenue sources. With excellent facilities and staff and strong government and industry support, the CDC has made significant contributions to the agricultural Economy of Saskatchewan and the rest of western Canada.
Since 1977, the Centre has released 222 new crop varieties of twenty-two different crop types. Scientists in the Centre were instrumental in the development of the Saskatchewan pulse crop industry. The area planted to pulses has increased from a few thousand acres in 1971 to nearly five million acres in 2004. Lentil, flax, winter wheat, Oat and barley varieties developed at the Centre occupy major portions of the area seeded to these crops in western Canada, and in many cases they set the quality standards for those crops. Harrington barley was registered in 1981 and is recognized throughout the world as the quality standard for two-row malting barley. Laird- and Eston-type lentils enjoy similar stature in export markets. Scientists at the Centre have also made significant contributions to improvements in crop production and pest-management techniques, and have played a major role in providing Saskatchewan farmers with up-to-date crop production information. With a solid record of success and strong support from farmers and funding agencies, the Centre continues to develop improved crop varieties and crop-management practices for Saskatchewan.
Frederick A. Holm
Print Entry