<%@include file="menu.html" %>

Welcome to the Encyclopedia of Saskatchewan. For assistance in exploring this site, please
click here
.
Campbell, Donald (1919-2001)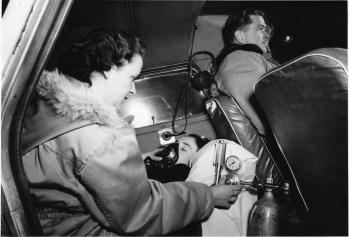 Don Campbell, born on December 22, 1919, was the first pilot to fly for the Saskatchewan Air Ambulance Service, which was created by the Co-operative Commonwealth Federation (CCF) government in 1946 to provide reliable service to every region of the province. It was the first air service of its kind in North America and the Commonwealth. Campbell flew a variety of aircraft through his years for the service, one of which was the Noorduyn Norseman (CF-SAM) that remains on display today at the Western Development Museum in Moose Jaw. He died on June 18, 2001.
James Winkel
Print Entry
This web site was produced with financial assistance
provided by Western Economic Diversification Canada and the Government of Saskatchewan.
Ce site Web a été conçu grâce à l'aide financière de
Diversification de l'économie de l'Ouest Canada et le gouvernement de la Saskatchewan.