<%@include file="menu.html" %>

Welcome to the Encyclopedia of Saskatchewan. For assistance in exploring this site, please
click here
.
Cameron, Alexander C. (1907-96)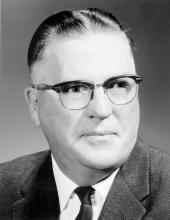 Alex Cameron was born in Avonhurst on June 30, 1907. After receiving his Education at Campion College in Regina and the University of Saskatchewan, Cameron taught in several schools in southwest Saskatchewan. He ended up in Richmound, where he was principal and active in the Saskatchewan Teachers Federation. He operated a garage in Richmound with his brother from 1941-60. Cameron was Richmound's mayor, organized credit unions, and was involved in the Swift Current health district. In the 1948 Saskatchewan election Alex Cameron won the Maple Creek seat for the Liberals. Cameron ran for leadership of the Liberal Party in 1959 but was defeated by Ross Thatcher. In 1964 Premier Thatcher appointed Cameron Minister of Mineral Resources, which he held until the Liberals lost the 1971 election. In 1965 Cameron was also appointed Minister of Telephones. During his term as mineral resources Minister, Alex Cameron worked closely with the private sector, encouraging exploration and the development of the industry, especially with petroleum and potash. His department introduced telephone service to Saskatchewan farms still without telephones in the 1960s, while Mineral Resources developed a cost-sharing program to encourage Mining in the North. He lost his seat in 1971. Cameron died on January 16, 1996.
Maryanne Cotcher
Print Entry
Further Reading
Eisler, Dale. 1987. Rumours of Glory: Saskatchewan and the Thatcher Years. Edmonton: Hurtig Publishers.
This web site was produced with financial assistance
provided by Western Economic Diversification Canada and the Government of Saskatchewan.
Ce site Web a été conçu grâce à l'aide financière de
Diversification de l'économie de l'Ouest Canada et le gouvernement de la Saskatchewan.