Bulyea, George (1859-1929)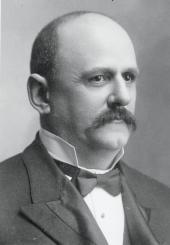 George Hedley Vicar Bulyea was born February 17, 1859, in Gagetown, New Brunswick and graduated from the University of New Brunswick with honours. He married Annie Blanch Babbitt in 1885 and they had one son, Percy, who died in his fifteenth year. Bulyea taught school in New Brunswick from 1878 to 1882, rising to principal, and sometimes worked as a surveyor and undertaker. In 1892 he moved to Winnipeg and in 1893 to Qu'Appelle, Assiniboia, where he ran a general store. He also wrote a pamphlet for the Canadian government extolling the virtues of the North-West Territories to potential settlers.
Bulyea lost the 1891 Territorial election but was elected to the Legislative Assembly of the North-West Territories from South Qu'Appelle in 1894. He joined the first Cabinet in 1897 as Territorial Secretary and Commissioner of Agriculture. In 1903 he relinquished these positions to become Commissioner of Public Works. He was the unofficial leader of the Liberals in the Assembly by 1903, second only to Premier Frederick Haultain in influence. He served as a special commissioner for the North-West Territories to the Yukon in 1897.
Bulyea resigned in 1903 due to Haultain's Conservative partisanship, but was persuaded to rejoin the Cabinet. He became a key member of the Cabinet sub-committee that represented Territorial interests in Ottawa in negotiating the creation of Alberta and Saskatchewan as provinces. During the provincial elections of 1905, the Liberal "machine" that Bulyea created was one of the keys to the Liberal victory in both provinces.
Laurier appointed Bulyea the first Lieutenant-Governor of Alberta and he served until 1915. Bulyea died on July 28, 1928, at Peachland, BC, and is buried in the Qu'Appelle Cemetery in Saskatchewan.
Michael Thome
Print Entry