<%@include file="menu.html" %>

Welcome to the Encyclopedia of Saskatchewan. For assistance in exploring this site, please
click here
.
Brockelbank, John Hewgill (1897- 1977)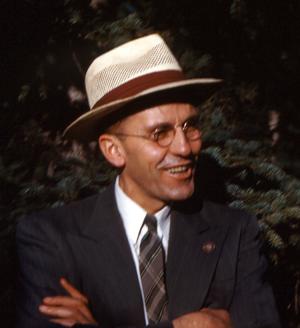 He was born June 24, 1897, in Grey County, Ontario. He moved west in 1911 with his parents, who homesteaded near North Battleford. In 1917 he enlisted in the army and served in Europe. Upon return, he began farming near Bjorkdale. Along with Sandy Nicholson, he laid the foundation for the CCF organization in northeastern Saskatchewan. In 1938 he was elected to the Legislature from the constituency of Tisdale and was re-elected in every election until his retirement in 1967. He became the CCF's primary legislative tactician. In 1941, when CCF leader George Williams enlisted in the military, Brockelbank became leader of the Opposition. Upon the CCF's victory in 1944, he was appointed to Douglas' first Cabinet as Minister of Municipal Affairs. After the 1948 election, he was appointed Minister of Natural Resources, a post he held for fourteen years. During his time as Minister, both the potash and oil industries of the province would begin significant growth. His tenure as Minister marked the change in the CCF's focus away from government-administered development of natural resources towards encouraging development by the private sector. In 1962, the new Premier, Woodrow Lloyd, appointed Brockelbank Provincial Treasurer and Deputy Premier, positions that he held until the CCF's defeat in 1964. Brockelbank remained active within the NDP's organization until his death on May 30, 1977.
Brett Quiring
Print Entry
Further Reading
Saskatchewan Archives Board. John H. Brockelbank Papers. R-907. Regina; Richards, John and Larry Pratt. 1979. Prairie Capitalism: Power and Influence in the New West. Toronto: McClelland and Stewart.
This web site was produced with financial assistance
provided by Western Economic Diversification Canada and the Government of Saskatchewan.
Ce site Web a été conçu grâce à l'aide financière de
Diversification de l'économie de l'Ouest Canada et le gouvernement de la Saskatchewan.