<%@include file="menu.html" %>

Welcome to the Encyclopedia of Saskatchewan. For assistance in exploring this site, please
click here
.
Anderson Cart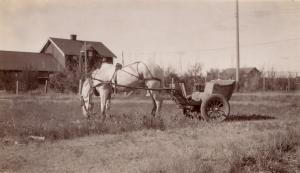 Similar in design to a BENNETT BUGGY, an Anderson Cart included a seat over the front axel of an automobile in place of an engine. The conveyance was derisively named after J.T.M. Anderson, Premier of Saskatchewan from 1929 to 1934.
Holden Stoffel
Print Entry
This web site was produced with financial assistance
provided by Western Economic Diversification Canada and the Government of Saskatchewan.
Ce site Web a été conçu grâce à l'aide financière de
Diversification de l'économie de l'Ouest Canada et le gouvernement de la Saskatchewan.