Trottier, Bryan (1956–)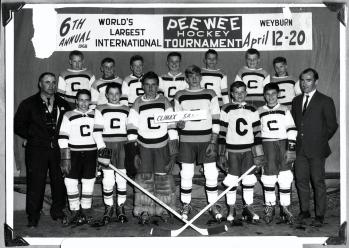 A talented all-round player through eighteen NHL seasons, Bryan Trottier was born in Val Marie, Saskatchewan on July 17, 1956. He played junior hockey with the Swift Current Broncos (later Lethbridge) of the Western Canada Junior Hockey League before joining the New York Islanders for the 1975–76 season. Trottier made an immediate impact in his second NHL game with a hat trick and two assists. He finished the year with ninety-five points and won the Calder Trophy as top rookie. Centered between Mike Bossy and Moose Jaw native Clark Gillies, Trottier won the Art Ross Trophy as top scorer and Hart Trophy as most valuable player in the 1978–79 season. The following year, the Islanders won the first of four consecutive Stanley Cup championships while Trottier earned the Conn Smythe Trophy as playoff MVP. Although his point production diminished along with the Islanders dynasty, Trottier's post-season experience earned him a spot with the Pittsburg Penguins. Two more Stanley Cup wins followed in 1990–91 and 1991–92 before Trottier retired at the end of the season. After a short stint in the Islanders' front office, Trottier played forty-one games for the Penguins during the 1993–94 season. He retired a second time, and remained with the club as an assistant coach until 1997. Trottier coached the American Hockey League's Portland Pirates for one season and returned to the NHL as an assistant coach with the Colorado Avalanche, helping the team to their second Stanley Cup title in 2001. He coached the New York Rangers for fifty-four games during the 2002–03 season. Bryan Trottier scored 524 goals and added 901 assists for 1,425 points in eighteen NHL regular seasons. The league's sixth-highest all-time scorer when he retired, he was inducted into the Hockey Hall of Fame and Saskatchewan Sports Hall of Fame in 1997.
Daria Coneghan, Holden Stoffel
Further Reading
Podnieks, A. et al. 2002. Kings of the Ice: A History of World Hockey. Richmond Hill, Ontario: NDE Publishing.