Reed, George (1939–)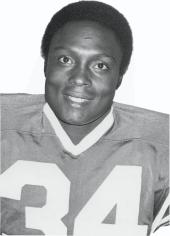 Often considered the greatest fullback in the history of professional football, George Reed played for the Saskatchewan Roughriders for thirteen seasons. Reed was born in Vicksburg, Mississippi, on October 2, 1939, and attended Washington State University. After turning professional at age 21, he began his distinguished career with the Riders in 1963. George Reed carried the ball 3,243 times for 16,116 yards. He rushed for 1,000 yards or more in a season eleven times, and tallied 134 touchdowns on the ground and three more through the air. He was a ten-time Western Conference All-Star and an eleven-time Canadian All-Star. Reed participated in four Grey Cup championships, and helped the Riders to their first title in 1966. He won the Schenley Award in 1965 as the CFL's most outstanding player. In 1975, his final year in the league, George Reed was awarded the Tom Pate Memorial Trophy by the Canadian Football League Players' Association for his outstanding playing ability and community service. Following his retirement, Reed served on the Saskatchewan Special Olympics Committee and chaired the Easter Seals campaign. In October 1975, the George Reed Foundation for the Handicapped was established, including Reed's Club 34 to assist mentally and physically challenged youth. Reed served two terms as president of the league's Players' Association and was also a director of the Saskatchewan Sports Hall of Fame, of which he has been a member since 1979. He received the Order of Canada (1978) and was inducted into the Canadian Football Hall of Fame (1979) and the Canadian Sports Hall of Fame (1984). George Reed's #34 jersey is permanently retired in the Canadian Football Hall of Fame.
Daria Coneghan, Holden Stoffel
Further Reading
Kelly, G. 2000. Green Grit: The Story of the Saskatchewan Roughriders. Toronto: HarperCollins.