Murray, Athol (1892–1975)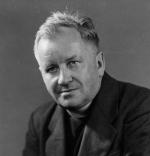 Born in Toronto on January 9, 1892, Père Murray was ordained in 1918 and sent to Regina. In 1923, he established a sports club later known as the Regina Argos Athletic Club for disillusioned youth. Four years later he was assigned to Wilcox, where he joined the Sisters of Charity of St. Louis at Notre Dame of the Prairies. Murray officially founded Notre Dame in 1933 as a liberal arts college affiliated with the University of Ottawa. Rooted in the Catholic tradition, the college places special emphasis on athletics, particularly hockey. Père Murray's dedication earned Notre Dame international recognition as Canada's largest co-educational residential high school. The college's hockey team, the Hounds, have won forty-eight provincial and four national championships while over 100 former players have been drafted by NHL teams. Père Murray is a member of the Saskatchewan Sports Hall of Fame (1967), the Canadian Sports Hall of Fame (1972), and the Hockey Hall of Fame (1998). He was invested as an Officer of the Order of Canada in 1968. He died on December 15, 1975. Notre Dame College was officially renamed the Athol Murray College of Notre Dame in 1981.
Daria Coneghan, Holden Stoffel
Further Reading
Gorman, J. 1977. Père Murray and the Hounds: The Story of Saskatchewan's Notre Dame College. Sidney, BC: Gray's Publishing.