Hunter, William Dickenson (1920– 2002)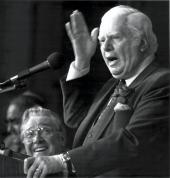 William Dickenson Hunter, better known as "Wild" Bill, was a hockey coach, team owner, and promoter. He was born in Saskatoon on May 5, 1920, and educated at Notre Dame College in Wilcox. In 1966, Hunter was among a group of team owners who established what is now the Western Hockey League. Although he later failed in his bid to buy the NHL's Pittsburgh Penguins and was denied an expansion franchise, Hunter and two American promoters formed the World Hockey Association (WHA) in 1971. Twelve teams participated in the WHA's inaugural 1972-73 season, including Hunter's franchise, the Alberta Oilers (later the Edmonton Oilers). The league folded in 1979, but the Edmonton Oilers were one of four WHA clubs accepted into the NHL. Ironically, Hunter had sold the Oilers in 1976. In 1983, Hunter made his final bid for an NHL team by attempting to move the St. Louis Blues to Saskatoon. He found backers to build an 18,000-seat arena and sold more tickets than seats, but the NHL refused to transfer the Blues to a small market like Saskatoon. Despite this failure, Hunter turned to promoting curling and spent his finals years in Edmonton. He was a member of the Order of Canada, the Canadian Sports Hall of Fame, and the Saskatchewan Sports Hall of Fame. Bill Hunter died on December 16, 2002.
Daria Coneghan, Holden Stoffel
Further Reading
Hunter, B. and B. Weber. 2000. Wild Bill: Bill Hunter's Legendary 65 Years in Canadian Sport. Red Deer, Alberta: Johnson Gorman Publishers.