Howe, Gordie (1928–)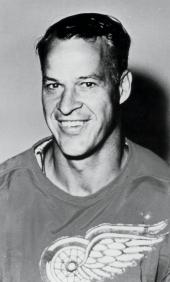 Recognized as "Mr. Hockey," Gordie Howe had a five-decade career as an NHL player. Born on March 31, 1928, in Floral, Saskatchewan, Howe made his professional debut in the 1946–47 season as a member of the Detroit Red Wings. He played right wing on the "Production Line" with Ted Lindsay and Melville native Sid Abel. The less time Howe spent in the penalty box the more his point production improved. He led the league in scoring six times over his career, and helped the Red Wings to four Stanley Cup championships. Gordie Howe retired at the end of the 1970-71 season as arthritis in the wrist forced him to the sidelines after twenty-five years with Detroit. Yet his absence from hockey was short-lived: in 1973 he signed as a free agent with the Houston Aeros of the World Hockey Association (WHA) and joined his sons, Mark and Marty, on the team's roster. The Howe trio played three seasons in Houston before moving to the New England Whalers in 1977. Two years later, the WHA merged with the NHL, and Gordie Howe played in one final, complete season as a Hartford Whaler. Although Wayne Gretzky would eventually break many of Howe's records, Mr. Hockey's NHL career remains second to none. In 1,767 NHL regular season games, Howe scored 801 goals and added 1,049 assists for 1,850 points. His playoff totals stand at 157 games played, 68 goals, and 92 assists for 160 points. Known for his toughness, Howe amassed 1,685 regular season penalty minutes. He is a six-time Hart Trophy winner as league MVP, and the 1967 Lester Patrick Trophy recipient for service to hockey in the United States. Named to the First All-Star Team twelve times, Gordie Howe was inducted to the Saskatchewan Sports Hall of Fame in 1971 and the Hockey Hall of Fame one year later.
Daria Coneghan, Holden Stoffel
Further Reading
Podnieks, A. et al. 2002. Kings of the Ice: A History of World Hockey. Richmond Hill, ON: NDE Publishing.