Doukhobor Settlement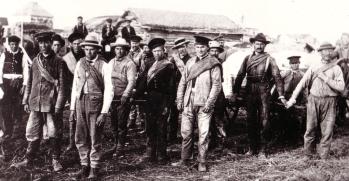 Canada's nation-building policy of creating a healthy industrial economy involved the settlement of the west through vigorous immigration promoted by Clifford Sifton, Minister of the Interior. Sifton's coup came in 1899 when he attracted 7,500 Russians to western Canada as the largest single group to emigrate to this country. Known as Spirit-Wrestlers/Doukhobors, these people were dissidents from southern Russia who were persecuted by the Tsarist government and the Orthodox Church for their refusal to go to war and for their rejection of the formal church. They attracted the attention of Leo Tolstoy, who saw in them the practical expression of the morality in which he believed, as well as of the English Quakers, who were sympathetic to their cause (see Doukhobor philosophy). After arriving in eastern Canada on four cattle boats and travelling across the country by rail, the new settlers stopped in immigration halls in Winnipeg, Selkirk, Brandon, Dauphin, Yorkton, and Prince Albert, until in early spring they moved to temporary block houses. Awaiting them were three reserves of land in the North-West Territories (now Saskatchewan), totaling nearly 750,000 acres of pristine prairie land dotted with trees, shrubs and creeks. This was a magnificent endowment set aside by the Canadian government for the Doukhobors' sole use.
Two of the reserves were in the northeast corner of Assiniboia Territory. The North Colony (Thunder Hill) was located 112 km from Yorkton and contained six townships. The South Colony, with an annex called Devil's or Good Spirit Lake Colony and containing fifteen townships, was situated 48 km from Yorkton, which, located on the north line of the Canadian Pacific Railway, served as a shipping and trade centre for the colonists in the two reserves. The third reserve, 320 km to the northwest, was the Prince Albert or Saskatchewan Colony; its southern part lay 32 km northwest of Saskatoon.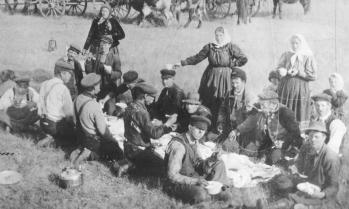 The first year in Canada tested the strength of the Doukhobors. It witnessed the building of fifty-seven Old World villages, surrounded by scattered plots of tilled land and connected by rudimentary roads and trails. While able-bodied men were away working for wages on railway construction and in neighbouring farms, women, children and elder men built the villages, some twenty houses in each, in the summer and fall of 1899: thirteen villages in the North Colony; twenty-four in the South Colony and another ten in the Annex; and ten in the Saskatchewan Colony. Women's determination was evidenced when they hitched themselves to ploughs and cultivated the first gardens.
With no more than fifty families each, these single-street villages followed tradition and belief. They resembled the peasant commune or mir—the settlement of generations of Doukhobors and other Russians—as well as the first-century Christian belief of holding all things in common, which leader-in-exile Peter V. Verigin had recently revived among the Doukhobors. Log dwellings luted with clay were common in the North Colony, while sod and clay houses were constructed in the South and Prince Albert colonies. The more individualistic settlers in the Saskatchewan Colony built traditional house-barn combinations. Later, many of the early dwellings were replaced with brick or wooden structures. Some villages erected a separate meeting house or dom. In all, ninety villages were established in Saskatchewan. Grain elevators, flourmills, and brick factories soon arose in several central locations such as Veregin, near Kamsack. An ideal community had begun.
Like Tolstoy, Doukhobors looked at land rights as a basis for expressing equality and morality. The old Russian mir system embraced land as a common resource to be used by those working on it: land was therefore not a commodity to be sold. When the Russians arrived in Canada in 1899, the Canadian government agreed to agricultural villages because twenty-five years earlier it had accommodated the Mennonites immigrating to southern Manitoba. The Hamlet Clause in the Dominion Lands Act allowed communal-minded settlers to live in a village within three miles (4.83 km) of the homestead quarter section (160 acres, or 64.8 ha) instead of living on each quarter. Clifford Sifton, Minister of the Interior, reaffirmed this arrangement in February 1903 when he allowed a committee of three to make entry on behalf of all the Doukhobors. By November 1904, 422,800 acres representing approximately 2,640 homesteads had been entered.
An abrupt end to the period of agreement came in 1906 when the new Minister of the Interior, Frank Oliver, overruled the cultivation and residence concession granted by Sifton. Instead he accepted a recommendation by Reverend John McDougal, Land Commissioner, to cancel the reserves, and threatened eviction if they did not individually comply to make new entries for the land and if the people did not become citizens. The new policy thus stamped out communal competition in favour of free enterprise. Taking the oath, a requirement of naturalization towards obtaining citizenship (a fulfilment of the Homestead Act), was a technicality to which the Doukhobors would have objected to had they known it before coming to Canada: many feared the oath as a negation of their exemption from military service, which was secured under an Order-in-Council. On June 1, 1907, these regulations were enforced and some 2,500 homesteads, representing approximately 400,000 acres of land, were cancelled. To soften dislocation, the government set up for the Community Doukhobors temporary reserves around each village, based on fifteen acres of land for each villager. These village reserves dwindled from year to year, and in 1918 the land remaining was sold.
The loss was a major blow to the Doukhobor community and immediately caused splits into three camps. Those in conscience who would affirm rather than take the oath were able to maintain their homesteads and remain in Saskatchewan; known as Independents, they were suspicious of hereditary leadership. Today, practically all of the estimated 15,000 Doukhobors in Saskatchewan are Independents. A large party of 5,000 Community Doukhobors, led by Peter V. Verigin, settled in the interior of BC in 1908; privately, the group purchased 21,600 acres of land. The third group, the Zealots (also known as the Sons of Freedom), comprising a minuscule percentage of the Doukhobor population, took to heart the dictum that land is God's and that Christian teaching cannot be taken piecemeal: initially they sided with their Community brethren and moved to BC.
The outcome of all these developments was an unprecedented land rush and a major loss to the Doukhobor community of some $11 million. James Mavor of the University of Toronto, who assisted the Doukhobors in negotiations with the government, called this a "breach of faith." The officials would not listen, and to this day 40,000 Canadian Doukhobors remember this as a deliberate betrayal of government to break up their co-operative structure, their traditional way of looking at morality, and their anti-military social movement.
Koozma J. Tarasoff
Further Reading
Tarasoff, K.J. 2002. Spirit Wrestlers: Doukhobor Pioneers' Strategies for Living. Ottawa: Legas Publishing and Spirit Wrestlers Publishing; Tracie, C.J. 1996. "Toil and Peaceful Life": Doukhobor Village Settlement in Saskatchewan 1899–1918. Regina: Canadian Plains Research Center.