Chinese Community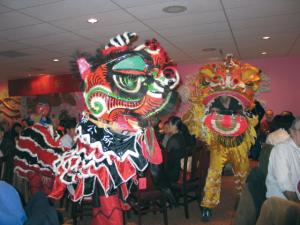 Chinese settlement in Saskatchewan dates back to the late 1880s, when the Canadian Pacific Railway (CPR) was completed. Early Chinese immigrants arrived in Saskatchewan mainly through British Columbia. There were only forty-one Chinese in Saskatchewan in 1901, according to the 1901 Canadian census. With the growing hostility towards the Chinese in British Columbia at the turn of the century, Chinese immigrants began moving eastward. Moose Jaw was initially one of the largest Chinese communities in Saskatchewan, with over 160 Chinese and over twenty businesses by 1911. Other Chinese communities were in Regina, Swift Current, Battleford, and Saskatoon. According to the Canadian census, the total Chinese population in Saskatchewan had grown to 957 by 1911.
The growth of Saskatchewan was closely linked with the building of the CPR and Chinese immigrants immediately settled in the new railway towns. In 1882, Moose Jaw was chosen as the divisional point of the CPR and developed quickly into a booming town with the largest Chinese population: by 1910, a small Chinatown with a population of about 150 had emerged on River Street, and in 1913 Moose Jaw had about 450 Chinese men and two women, thirty-five to thirty-eight Chinese laundries, and three Chinese restaurants. As in other Chinese communities, the introduction of steam laundry and the Depression put many Chinese laundries out of business: the Chinese population in Moose Jaw dropped steadily, from 320 in 1921 to 260 in 1941; its Chinatown was, in effect, extinct by the 1940s.
In Saskatoon the Chinese population was merely 228 in 1921, but increased to 308 in 1931. A short-lived Chinatown consisting of a few stores was established, and the population grew from 225 in 1951 to 499 in 1961. After the mid-1960s, a few Chinese restaurants and stores opened, and by November 1986 Saskatoon's New Chinatown consisted of about twenty Chinese businesses. Regina did not have a Chinatown, partly due to the small Chinese population and partly because of the mutual agreement made among early Chinese immigrants that they would avoid competition by not setting up businesses close to each other. In 1907, for example, there were four Chinese laundries, two Chinese restaurants, and one Chinese grocery store in Regina, scattered throughout the city's downtown area. The Chinese population in Regina was only eighty-nine in 1911. By 1914, the number of Chinese laundries had increased to twenty-nine, but there were only two Chinese grocery stores and restaurants. As in Moose Jaw, Chinese hand laundry businesses in Regina declined after the 1920s, so that by 1940 only eight laundries remained. In 1941, Regina had a Chinese population of only 250.
Historically, Chinese immigrants in Canada experienced racial discrimination. In 1885, the first federal anti-Chinese bill was passed to impose a head tax of $50, with a few exceptions, on all persons of Chinese origin entering the country. It was increased to $500 in 1903, which at the time was the equivalent of two years' wages. The Chinese in Saskatchewan were disenfranchised in 1908. The small Chinese community in Moose Jaw was particularly affected in 1912, when a Chinese restaurant owner was arrested after his employee, a White waitress, filed an assault complaint against him. The case was widely publicized and prompted an act by the Saskatchewan Legislature disallowing the employment of White females in restaurants and other businesses kept or managed by the Chinese; any Oriental who violated the act would be fined $100. The act was repealed in 1918, only to be replaced by the Female Employment Act, which required Chinese businessmen to obtain a special licence from the municipality in order to hire a White female. In 1923, the Canadian Parliament passed the Chinese Immigration Act, preventing Chinese from entering the country and controlling those already here; this Act remained in effect for twenty-four years. Since Chinese men could not bring their wives and children into Canada, the sex imbalance in the Chinese community remained the highest among ethnic groups in Canada.
In the decade between 1937 and 1947, Canada and China were allies in World War II, and it was during this time that the Chinese made another significant contribution to Canada. After the establishment of a Resistance and National Salvation Association in Regina in 1937, its small Chinese population of about 175 observed the memorial days, wired the Chinese government to keep up the fight, and used tag days and other devices to solicit funds. Despite a small Chinese population of only 300 in Saskatoon and 260 in Moose Jaw, these two cities achieved fame for their high level of bond purchases by the Chinese in the early years of the war. These contributions greatly helped to improve White Canadian attitudes towards the Chinese: this made possible, by 1947, enfranchisement of the Chinese in Saskatchewan as well as major improvements for the Chinese immigration policy in Canada.
In 1947, two years after the war, the Chinese Immigration Act was repealed, allowing for the reunion of many families. The Chinese population in Saskatchewan started to increase: in 1941 it stood at 2,249; by 1961 it had increased to 3,660. Since 1967, a fairer immigration policy based on the point system has been adopted in Canada. The universal point system, applied to all prospective immigrants irrespective of country of origin or permanent residence, allowed Chinese immigrants to come to Canada from mainland China and other Asian regions including Taiwan, Hong Kong, Malaysia, Singapore, and Vietnam. As a result, between 1971 and 2001 the Chinese population in Saskatchewan doubled, from 4,605 to 9,280. According to the 2001 census statistics, the Chinese community represented the largest visible minority group in Saskatchewan (29%), and about 1% of the total population. Today most of the Chinese in Saskatchewan live in Saskatoon (48%) and Regina (30%).
The Chinese community in Saskatchewan is now a heterogeneous group with diverse cultural, professional and social backgrounds: unlike their predecessors, who toiled mainly in restaurants and laundries, the Chinese in Saskatchewan have moved into a wide range of professions and gained their rightful place in the multicultural society.
Li Zong
Further Reading
Chuenyuan Lai, D. 1988. Chinatowns: Towns Within Cities in Canada. Vancouver: University of British Columbia Press; Li, P. 1998. Chinese in Canada. Toronto: Oxford University Press; Wickberg, E. (ed.). 1982. From China to Canada: A History of the Chinese Communities in Canada. Toronto: McClelland and Stewart.